Chosen CD poc: Post Orgasmic Chill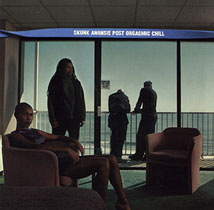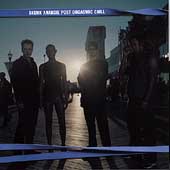 CD CDV2881 - Released 10/08/1999 by Virgin Records
Reached 12 in UK album charts

Charlie Big Potato (Listen | Tabs)
On My Hotel TV (Listen)
We Don't Need Who Do You Think You Are (Listen)
Tracy's Flaw (Listen)
The Skank Heads (Listen)
Lately (Listen)
Secretly (Listen | Tabs)
Good Things Don't Always Come To You (Listen)
Cheap Honesty (Listen | Tabs)
You'll Follow Me Down (Listen)
And This Is Nothing That I Thought I Had (Listen)
I'm Not Afraid (Listen)


POST ORGASMIC CHILL is an Enhanced audio CD which contains regular audio tracks and multimedia computer files.

Skunk Anansie: Skin (vocals, vibraphone, Theremin); Ace (acoustic & electric guitars); Cass (acoustic & electric basses, programming); Mark (drums, percussion).

Additional personnel: Andy Wallace (Hammond B-3 organ).

Recorded at Bearsville Studios, Woodstock, New York and Clinton Studios, New York, New York.

Skunk Anansie has tended to visit Heaven and Hell in alternate breaths. Though POST ORGASMIC CHILL is less extreme, the songs still plummet from the highest, hardest of metal rages into the most blissful and plaintive of whispers. What sets this album apart from the previous two is the subtle use of electronica, unusual percussion, and even snippets of jungle-perhaps a belated response to Skunk Anansie's sampling by the Prodigy.

The first track "Charlie Big Potato" is typical. After a brief drum-and-bass intro, Skunk Anansie launches into a thumping guitar motif and incredible vocals that leap from a hushed murmur into passionate screams of anguish. The repetitive, churning guitar themes latch onto the brain while, in contrast, the very American string arrangements add extra emotive power. Skin's incredible voice is celebrated for articulating black-feminist rage, but it is just as wonderful on the ballads. These were actually the band's more successful singles. CHILL includes "You'll Follow Me Down," "Lately," and "Secretly," which exhibits a terrifically impassioned, empowering response to infidelity and a lovely, uncharacteristic haze of guitars in the central section.