Band Biography: "Our songs are all about what happens to us on a day to day level," says Skunk Anansie vocalist Skin, summing up the essence of the multi-racial British quartet's blistering debut recording, Paranoid And Sunburnt.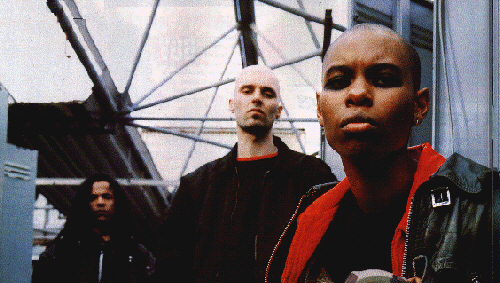 Paranoid and Sunburnt
Paranoid And Sunburnt meets the challenge of capturing the frenetic Skunk Anansie live sound, an invigorating blend of punk, funk, hard rock and reggae. The album was co-produced by the band and Sylvia Massey (Tool, Bikini Kill). "She got the best sounds out of us that she could," enthuses Skin. "When we recorded the album, we went through every single extreme that you could," recalls Skin. "We had a brilliant time. And other times we went completely mad, stir crazy." That frenzied atmosphere is captured in the video for the band's first single, the searing Selling Jesus. With a white cross emblazoned across her face, Skin attacks organized religion for misleading innocents with falsehoods in order to line their pockets. Again and again in the course of Paranoid And Sunburnt, Skin returns to the thorny issue of racism with the tracks Little Baby Swastikkka and Intellectualize My Blackness. Elsewhere, tight musicianship and cohesive songwriting allows Skunk Anansie to turn in gentler performances, like Charity and the lilting 100 Ways To Be A Good Girl.
Skin realizes that Skunk Anansie, the first successful rock band ever fronted by a Black woman, may baffle some. "I'm being portrayed as the angry Black lesbian," she laughs. "Everyone thinks I'm 6'3"!" But that's all part of the game plan, as Skunk Anansie are designed to provoke their listeners in an inspired, genuine fashion. Even their peculiar name reflects that aim: Anansie is an eight-legged human protagonist in the Jamaican equivalent of the American Uncle Remus stories. "He's the king of mischief," explains Cass. "And the Skunk aspect is just the stinkiest thing we could think of. It's one of those names that - once you can bring your mind to remember it - you'll never forget."
---
Peter Day's review of Paranoid and Sunburnt
Skunk Anansie, are a group of four Londoners, taking the British metal scene by storm, winning the hearts of the scribes of the awesome Brit metal mag Kerrang, and a reputed incendiary live show. Musically they remind me of Germany's Warlock (all you kiddies remember them?), and lyrically this platter is filled with anger and spite directed towards the world's social and political ills. "Little Baby Swastikkka" is a tale of children being taught to hate, with a big groove, funky bass and is darn near danceable. One thing that turns me off a bit, are Skin's screechy vocals. Unfortunately, two ballads creep onto the album, and as far as I'm concerned, its the ballad that killed metal off. Why does metal, a sub section of rock and roll, fueled by energy, noise and brute force feel the need to bring things down to a crawl with ballads? - Peter Day
---